// PSS RK
The Bone Grinder is intended for cutting meaty pork bones and beef bones, or frozen meat. The raw material obtained in this way is further processed in a type 280 bone separator, with which it forms the cutter of the technological line.
The supporting part of the grinder is the stand. An electric motor is built inside the stand, which drives the gearbox of the cutting device with V-belts. On the side of the output shaft of the gearbox, there is a bolted connection plate. The hopper is connected to this connecting plate with screws.
The cutting head is screwed to the front of the hopper, in which the cutting board is inserted and clamped with a nut. A feed auger is installed along the entire length of the hopper and the cutting head.
From the carrier side, the worm is pushed onto the modified end of the gearbox output shaft. A pin is inserted in the front part of the auger, which passes through the knife holder with the cutting knives.

The pin rests on the compression spring and is centered by an insert inserted into the nut. The axial pressure in the screw is captured by the gearbox, which is sufficiently equipped with a tapered bearing for the purpose of transferring this axial pressure. The stand rests on four adjustable legs with rubber supports. The covers of the belt drive and the lid for access to the motor terminal block, the tension screw and the pressure screw are removable, the other covers are screwed on the stand.

The cutter does not have its own electrical distributor, but it is connected to an electrical distributor type rm 950, which is also used to connect the meat and bone separator type 280.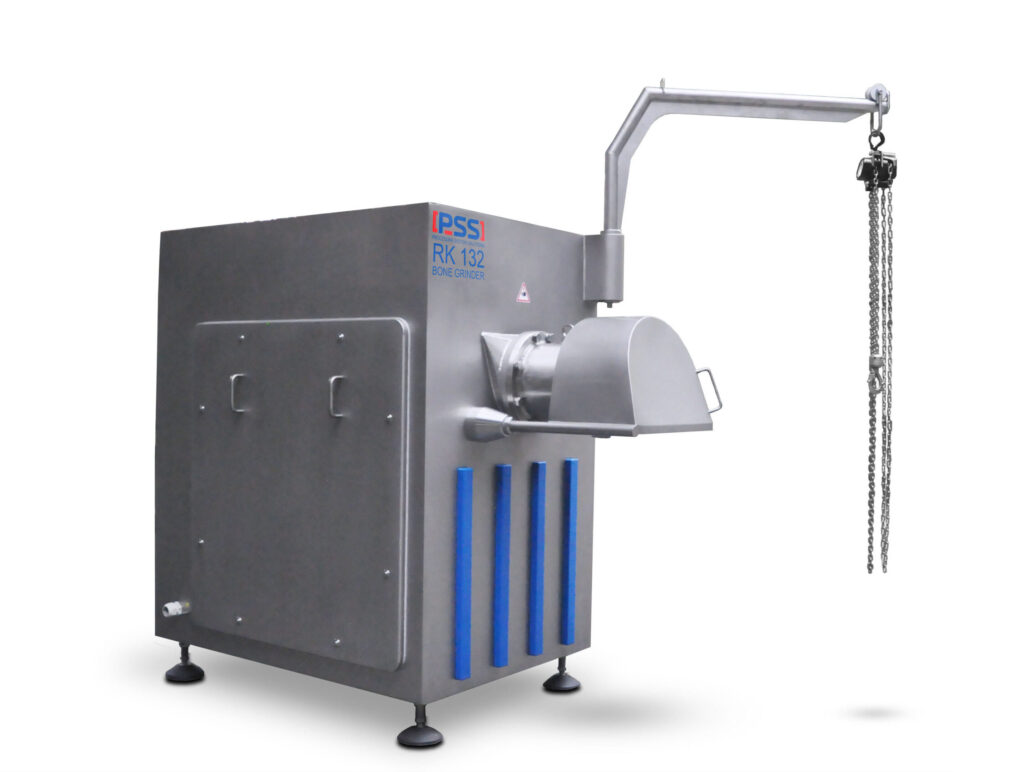 | Parameter | RK 132 |
| --- | --- |
| Capacity | 1300-2200 kg/h |
| Machine Input | 45,3 kW |
| Hopper Volume | 220 l |
| Dimensions | |
| A | 1020 mm |
| B | 1676 mm |
| C | 1680 mm |
| Machine Weight | 1250 kg |